It occurred to me that we are constantly being asked something about ourselves on paperwork or in person. In an age when no one is supposed to ask anything about your religion, race, family background or political persuasion, I find it interesting that we continue to be asked personal things, regardless. This is quite disturbing to some and others go along with it because they feel there is nothing that can be done about it…so why bother to complain. Why worry?…for it is just one more exasperating part of life. Bureaucracy has always been a pain.
How we deal with our everyday stresses greatly effects our own emotional welfare. From from buying a house, applying for a job, filing out the income tax forms, medical questions and much more, we all feel the pinch…and are glad when it is completed.
Lets look at this more deeply at putting our information on the tiny, little line provided on a form. Actually, what does it matter what race we are, for aren't we all from the "HUMAN race?" Who really needs to know? If we decided to put "human" next to that line, they probably would reject it…as if they didn't know what a "human" is.
As for politics, I just go vote for the person I think will be most likely to do the job…and do it when things get tough for all people. Yet, when I vote, I have to tell them that I'm one party or another. If I register in my state as an "Independent," I have only the national election in which to vote because it is considered a "closed primary" for other local elections. That doesn't seem fair.
Did I say the word, "FAIR?" The possibility of the unfairness of any election to be a problem is not a new problem. Somehow when the election rolls around, we wade through it because it is the American thing to do. Usually, however, I also have to show some identification that I am an indeed an American, not a dog or cat or illegal immigrant…unless that changes. I know who I plan to have my Golden Retriever vote for in that case. Don't ask me though, for privacy is an important part of who I am. I would hate to have "protesters"…or worse, outside my house! Unfortunately, violence has become such a part of our nation that simply holding up a sign for any candidate can become deadly. God help us!
You look at the medical records, that are supposed to be private. Does it matter to the doctor that I am male or female…well, maybe… if he is concerned about my ovaries. What does a person do that is not certain if he is female or male in his own thinking? I also suppose that when the form asks "male" or "female"… that there should be a box saying "other" …or "trying to decide." That might be confusing to the medics unless they have to check.
Yet, "other" might appear on some applications. This is true if you just can't fit into the category provided. Oh, yes, I jest a bit about things that may not be a laughing matter to some. My apology is in order, for we must not offend or even joke about any serious matter! I do have real concerns about a child that is growing up being told that they can "choose" what sex they want to be. This is happening, as I know you are aware. At least, let them grow up as male or female and then they can decide on this issue…if that is important to them.
This leads me to wonder, who exactly makes out these forms? They must stay up nights trying to figure out what to put down just in case someone might not know how to answer! Correctness is important to those who need to know. It is the RESPONSIBILITY of those who hold the pen or click the key on the internet. Someone on the other side will decide for you IF you have to reapply…so get it right!!
Therefore, I looked up: FORMS Don't ask me why. It is just one of those quirks I get when I'm laying awake at night thinking. Sometimes the things that pop into my head actually makes me laugh. Laughter is a good thing because it is at a premium these days…unless someone just gets hysterical from worry.
Back to FORMS. Is "form" a noun or a verb? If it is a form you fill out, it is a noun. If it is "form" in making something…like forming a round cookie ball, it is actually to form, which is a verb. That is just extra information in case you just couldn't live without knowing. The teacher in me comes out.
One of the forms that I came across was from the U.S. Citizenship and Immigration Services. I never realized it could get so complicated and sometimes expensive. Tough luck for those who come with almost no money to apply.
Reader,don't get bored. Stick with me. This part is for those readers who may be thinking of doing it the right way. These are a few, but NOT ALL:
Well, that was fun. I bet it won't be fun filling out those forms. If you are busy thinking which category you fall under, just know they will document everything about you. However, because you are willing to be honest, open and agreeable to doing things the "American Way," you may be able to be an American citizen…but the time of waiting is unknown. A wall won't be long enough for those who ignore the correct method, but those people will be looking over their shoulder their entire life.
As far as forms go, we, Americans have it all figured out. You can fill out your forms online, in Braille, or various other methods. Don't forget to read the fine print. It usually tells you "under penalty of law" which means that they will take you away from your family or your firstborn…which ever they can get. I'm teasing, of course. I'm not certain who they will send to get you since the police force might be minimized by the time they read your incorrect form. Oh, bureaucracy, it is the dream…or nightmare… of all who live in this wonderful world!
Perhaps I have been too hard on the ups and downs of filling out forms in our democracy. There are many other forms of government control that would not even ask you to fill out a form…because they don't care who you are, what you think or why you want something that calls for a form,…for it doesn't matter to them. You will simply be a speck…without rights or privileges. There are a few governments that incorporate a form of democracy with some form of socialism, such as in Sweden or Norway. Each has inherit dangers to how much control is actually given to the government hierarchy.
Next time I have to fill out a form, I will remember to thank God that I have the opportunity to participate in my own needs that require a form. What if we lived under the tyranny of most of the governments listed below.
Have you ever thought of how many different FORMS of GOVERNMENTS there are? You might want to look up some of these when you have an extra hour or two. Here is the list that I came up with…in alphabetical order.. certainly not in order of the most important to the rights of the average citizen.
Since we have an election coming up, it might be good to see if any of our candidates are leaning toward any one of these forms of government. No person is freer than in a democracy. and it is why we sing…. "I am glad to be an American….where I know I'm free…" Now, if only the American anarchist could learn that song!
Life and all its complications may be difficult to manage IF we try to hold on to them. So much of life, especially now, is filled with personal and national stress. Furthermore, there is not much we can do about most of it. We can't totally control the virus. We can vote in the election and who will win will be up to the nation as a whole. The police are trying to control the rioting and looting as much as they are given support by local governments. Young Americans need to be taught by family, clergy and teachers the basics of right and wrong. Where this failure happens, the young people will not learn. This should certainly keep us up at night.
Let's look at the Holy Scripture because there is a lesson here and also in the video below about our stresses and concerns.
To the Samaritan Woman at the well, Jesus said, "Everyone who drinks this water will be thirsty again, but whoever drinks the water I give them will never thirst. Indeed, the water I give them will become in them a spring of water welling up to eternal life." John 4
We, most of all, have to learn to put all things in God's hands. He knows the beginning from the end. He is all powerful and we must look to Him…personally and nationally. Whether it is filling out a simple form, or a not so simple form…or something much more stressful…we would do well to learn a lesson about A GLASS OF WATER.
---
This is the third and last in my series on the American veterans who fought and died. Today we think about the men and women who served in Vietnam.  The bravery, discouragement, and aftermath of the war is related in some of the stories in my new book shown at right.
Some facts about the Americans who were sent to this war:
The Vietnam War was a long, costly armed conflict that pitted the communist regime of North Vietnam and its southern allies, known as the Viet Cong, against South Vietnam and its principal ally, the United States.  The purpose was to stop communist aggression.  It started on or about November 1, 1955 and lasted until April 30, 1975, which is roughly 20 years.
This divisive war, increasingly unpopular at home, ended with the withdrawal of U.S. forces in 1973 and the unification of Vietnam under Communist control two years later.
More than 3 million people, including 58,000 Americans, were killed in the war. (credit History.com)
Many Vietnam vets are still living on our American streets today suffering from the mental anguish of the war.   Others have lingering diseases from agent-orange that was used in battles.
Some Americans left for Canada to escape going to Vietnam and they too must live with that decision. The rejection many felt as they finally returned home to the U.S. after the war was a cause of great discouragement.   Others fought with honor, whether in the medical corp or flying the helicopters to rescue the injured. The ground troops crawled into holes to find the Viet Cong and often carried their fellow soldiers and marines through the hot jungles.  It was a brutal and long 20 years.
The Day Saigon fell to the Communists:  There was the final day when the last American helicopter left Vietnam.  My doctor was fortunate enough to leave as a child, but the desperation of those Vietnamese left behind was a terrible thing.
"The North Vietnamese Communists closed in on the South Vietnamese city of Saigon. The U.S. desperately evacuated the last remaining Americans on April 29, 1975. But the city fell to the North Vietnamese on this Day, 41 years ago, April 30, 1975…The people were to wait for the code signal, which was the playing of the song "White Christmas." On the morning of April 29, the strains of the Bing Crosby classic signaled that those leaving had to get to designated landing zones…President Ford ordered an immediate evacuation of American civilians and Vietnamese refugees as the NVA closed in. US Marines and Air Force conducted an airlift of more than 1,000 Americans and over 7,000 refugees over an 18 hour period. They called it Operation Frequent Wind…Thousands upon thousands of South Vietnamese people tried to get on the helicopters as they left. Many had to be pushed down in order to take off. Fear and panic had gripped the people, who knew full well what would happen as the Communist NVA took over the country. Tens of thousands of Vietnamese people stormed the gates of the US Embassy, desperately crying out for help…Vietnamese veterans, many of whom have terrifying memories of the war, remember another airlift called Operation Babylift."  (The first plane crashed. Out of the more than 300 people on board, the death toll included 78 children and about 50 adults, including Air Force personnel. More than 170 survived…..Read this amazing story from this link: Operation Babylift.  ) 
The pictures shown on the video below may be a family member.  A Vietnam veteran may recognize himself.   If so, he will certainly remember his blood, sweat and tears.  Some pictures are not easy to see and the hardship for all is undeniable.   Read carefully the words under each picture as they represent men and women of great valor.
CLICK VIDEO
---
As the world becomes extremely tense and upset over the situation in Syria, the average person probably wonders what this is all about.  The horrors of it, with chemical attacks on little children and civilians, make it a matter of total world concern.  What is happening in Syria could happen in any country.
The best explanation with charts and statistics that I have seen so far is the following article posted by the BBC  (British Broadcasting Company).   At the end of this article is the question…."Will this war ever end?"   That question is a hard one and is probably on everyone's mind.
BBC ARTICLE BELOW:
Why is there a war in Syria?

A peaceful uprising against the president of Syria seven years ago has turned into a full-scale civil war. The conflict has left more than 350,000 people dead, devastated cities and drawn in other countries.
How did the Syrian war start?

Even before the conflict began, many Syrians were complaining about high unemployment, corruption and a lack of political freedom under President Bashar al-Assad, who succeeded his late father Hafez in 2000.
In March 2011, pro-democracy demonstrations erupted in the southern city of Deraa, inspired by the "Arab Spring" in neighboring countries.
When the government used deadly force to crush the dissent, protests demanding the president's resignation erupted nationwide.
The unrest spread and the crackdown intensified. Opposition supporters took up arms, first to defend themselves and later to rid their areas of security forces. Mr Assad vowed to crush what he called "foreign-backed terrorism".
The violence rapidly escalated and the country descended into civil war.
How many people have died?

The Syrian Observatory for Human Rights, a UK-based monitoring group with a network of sources on the ground, had documented the deaths of 353,900 people by March 2018, including 106,000 civilians.
The figure did not include 56,900 people who it said were missing and presumed dead. The group also estimated 100,000 deaths had not been documented.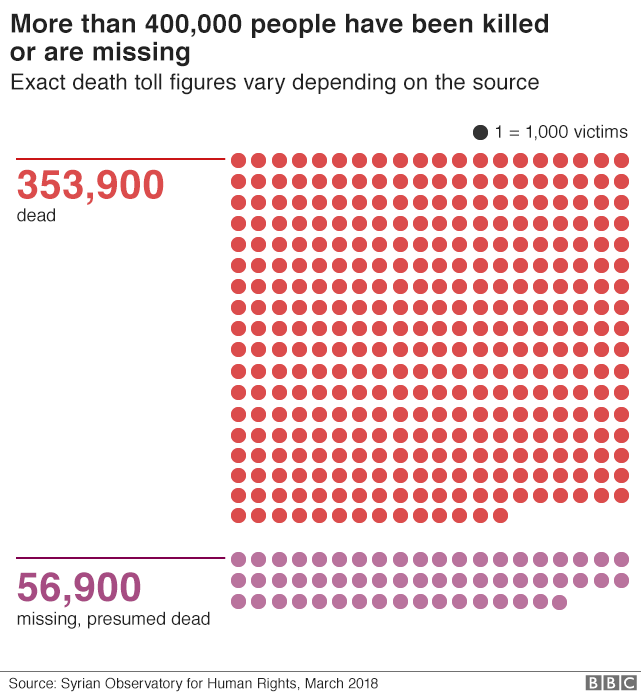 Meanwhile, the Violations Documentation Center, which relies on activists inside Syria, has recorded what it considers violations of international humanitarian law and human rights law, including attacks on civilians.
It had documented 185,980 battle-related deaths, including 119,200 civilians, by February 2018.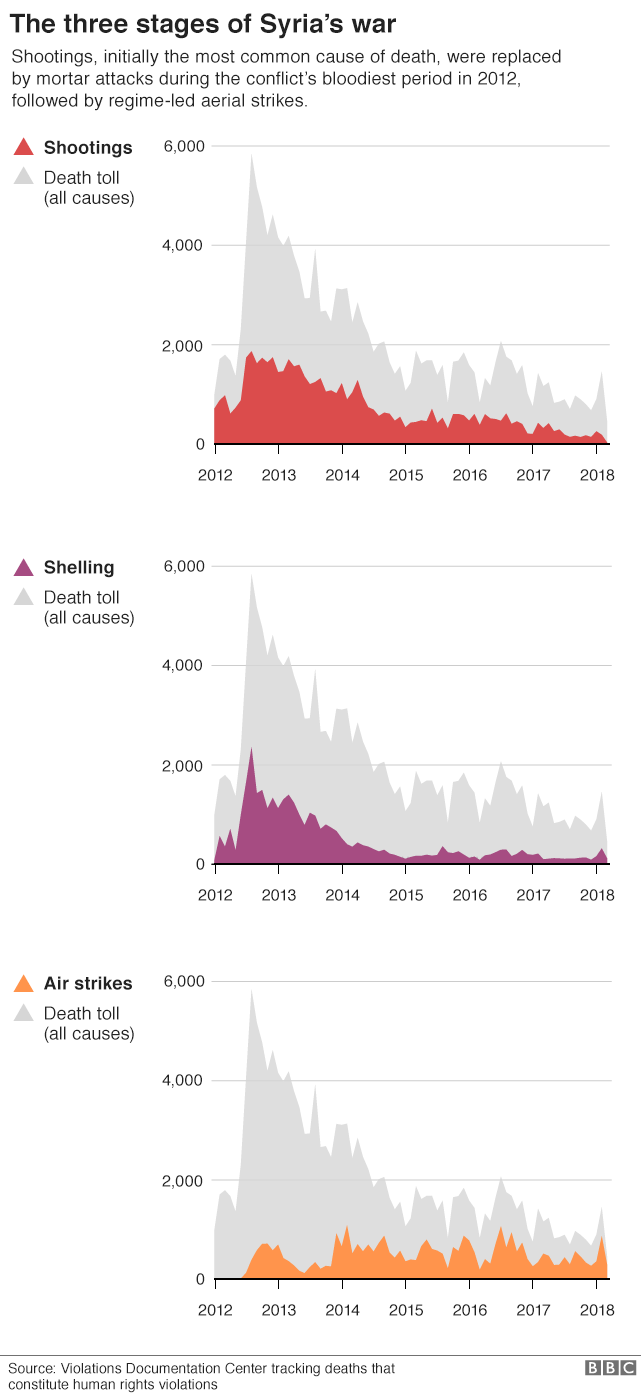 What is the war about?

It is now more than a battle between those for or against Mr. Assad.
Many groups and countries – each with their own agendas – are involved, making the situation far more complex and prolonging the fighting.
They have been accused of fostering hatred between Syria's religious groups, pitching the Sunni Muslim majority against the president's Shia Alawite sect.
Such divisions have led both sides to commit atrocities, torn communities apart and dimmed hopes of peace.
They have also allowed the jihadist groups Islamic State (IS) and al-Qaeda to flourish.
Syria's Kurds, who want the right of self-government but have not fought Mr Assad's forces, have added another dimension to the conflict.
Who's involved?

The government's key supporters are Russia and Iran, while the US, Turkey and Saudi Arabia back the rebels.
Russia – which already had military bases in Syria – launched an air campaign in support of Mr. Assad in 2015 that has been crucial in turning the tide of the war in the government's favor.
The Russian military says its strikes only target "terrorists" but activists say they regularly kill mainstream rebels and civilians.
Iran is believed to have deployed hundreds of troops and spent billions of dollars to help Mr. Assad.
Thousands of Shia Muslim militiamen armed, trained and financed by Iran – mostly from Lebanon's Hezbollah movement, but also Iraq, Afghanistan and Yemen – have also fought alongside the Syrian army.
The US, UK, France and other Western countries have provided varying degrees of support for what they consider "moderate" rebels.
A global coalition they lead has also carried out air strikes on IS militants in Syria since 2014 and helped an alliance of Kurdish and Arab militias called the Syrian Democratic Forces (SDF) capture territory from the jihadists.
Turkey has long supported the rebels but it has focused on using them to contain the Kurdish militia that dominates the SDF, accusing it of being an extension of a banned Kurdish rebel group in Turkey.
Saudi Arabia, which is keen to counter Iranian influence, has also armed and financed the rebels.
Israel, meanwhile, has been so concerned by shipments of Iranian weapons to Hezbollah in Syria that it has conducted air strikes in an attempt to thwart them.
How has the country been affected?

As well as causing hundreds of thousands of deaths, the war has left 1.5 million people with permanent disabilities, including 86,000 who have lost limbs.
At least 6.1 million Syrians are internally displaced, while another 5.6 million have fled abroad.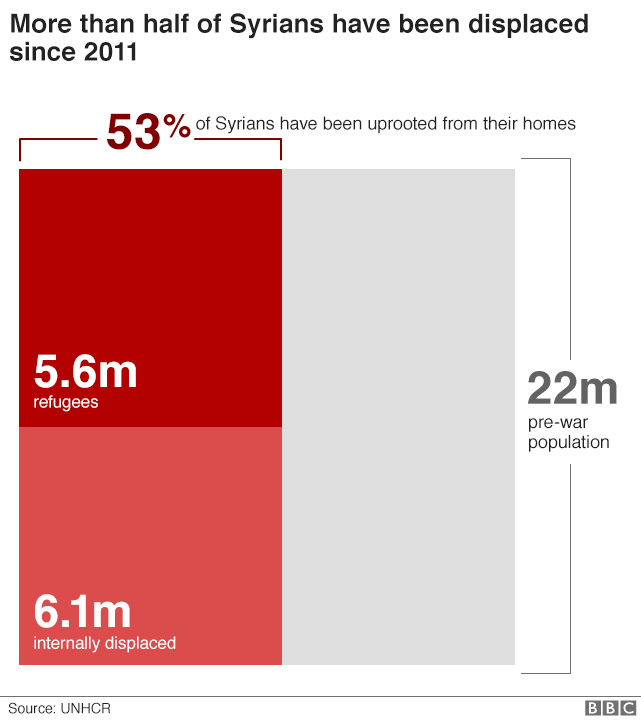 Neighboring Lebanon, Jordan and Turkey, where 92% of them now live, have struggled to cope with one of the largest refugee exoduses in recent history.
The UN estimates 13.1 million people will require some form of humanitarian help in Syria in 2018.
The warring parties have made the problems worse by refusing aid agencies access to many of those in need. Almost 3 million people live in besieged or hard-to-reach areas.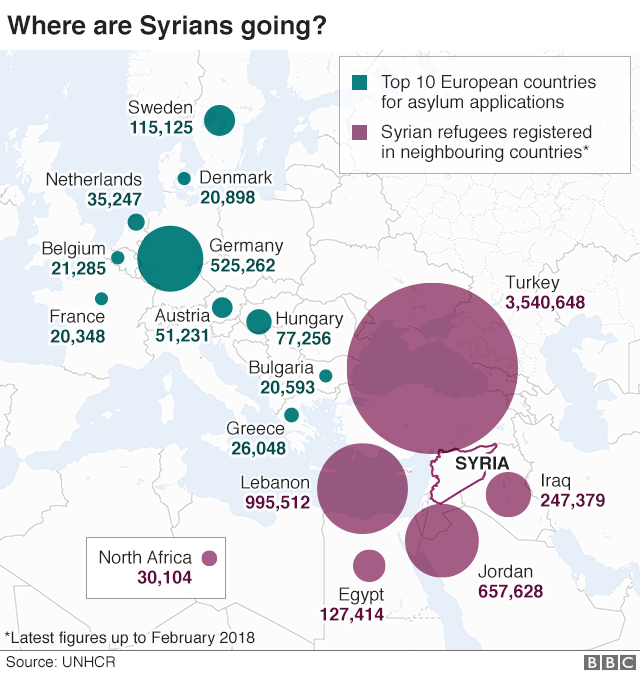 Syrians also have limited access to healthcare.
Physicians for Human Rights had documented 492 attacks on 330 medical facilities by the end of December 2017, resulting in the deaths of 847 medical personnel.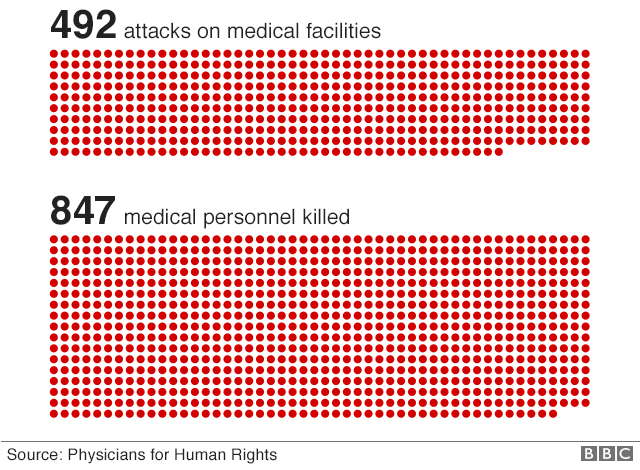 Much of Syria's rich cultural heritage has also been destroyed. All six of the country's six Unesco World Heritage sites have been damaged significantly.
Entire neighborhoods have been leveled across the country.
INTERACTIVE 
See how Jobar, Eastern Ghouta, has been destroyed
February 2018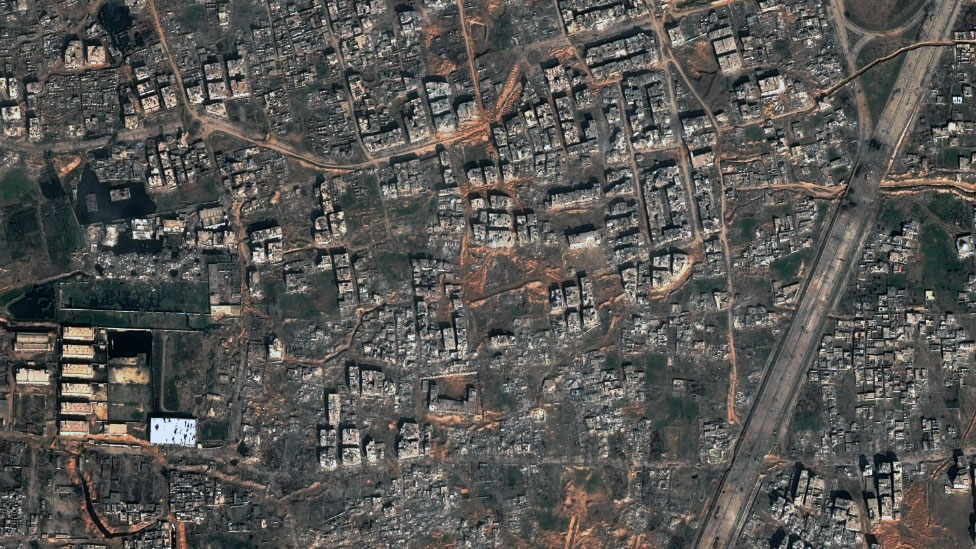 August 2013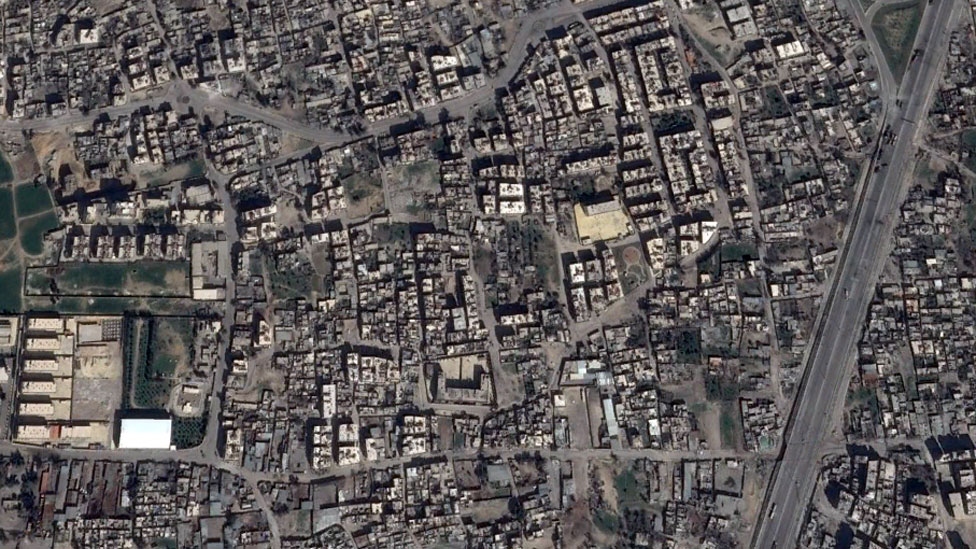 A recent UN assessment found 93% of buildings had been damaged or destroyed in one district of the rebel-held Eastern Ghouta region near Damascus.
How is the country divided?

The government has regained control of Syria's biggest cities but large parts of the country are still held by rebel groups and the Kurdish-led SDF alliance.
The largest opposition stronghold is the north-western province of Idlib, home to more than 2.6 million people.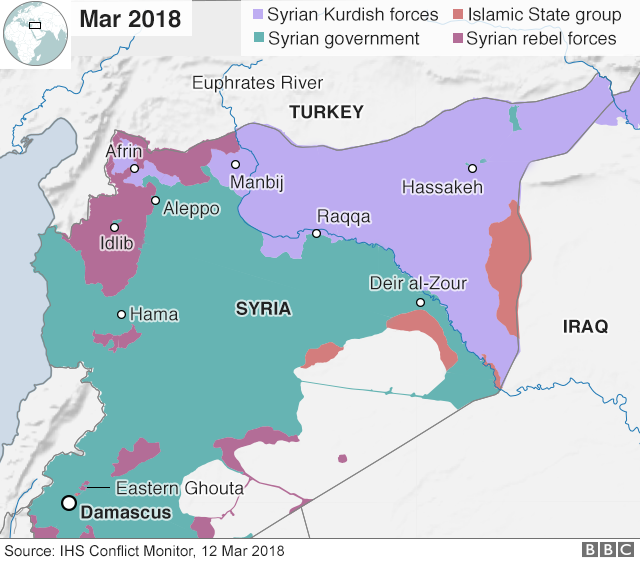 Despite being designated a "de-escalation zone", Idlib is the target of an offensive by the government, which says it is targeting jihadists linked to al-Qaeda.
A ground assault is also underway in the Eastern Ghouta. Its 393,000 residents have been under siege by the government since 2013, and are facing intense bombardment as well as severe shortages of food and medical supplies.
The SDF meanwhile controls most territory east of the River Euphrates, including the city of Raqqa. Until 2017, it was the de facto capital of the "caliphate" proclaimed by IS, which now controls only a few pockets across Syria.
Will the war ever end?

It does not look like it will any time soon but everyone agrees a political solution is required.
The UN Security Council has called for the implementation of the 2012 Geneva Communique, which envisages a transitional governing body "formed on the basis of mutual consent."
But nine rounds of UN-mediated peace talks – known as the Geneva II process – since 2014 have shown little progress.
President Assad has appeared increasingly unwilling to negotiate with the opposition. The rebels still insist he must step down as part of any settlement.
Meanwhile, Western powers have accused Russia of undermining the peace talks by setting up a parallel political process.
The so-called Astana process saw Russia host a "Congress of National Dialogue" in January 2018. However, most opposition representatives refused to attend.
---